Meet Dave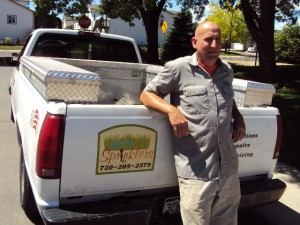 "My specialty is residential sprinkler repairs. No job is too small. I am the problem solver, and finish every job I start. I stand behind my work so it is fully guaranteed and to work for years.
I'll do those jobs that everyone else seems to have trouble with.  My clients tell me that they wish they would've called me years earlier.
I've done jobs where a contractor could not finish and we did it at a reasonable rate.  We're competitive most of all and get the job done right the first time.
I'll show you professional service and a professional staff."
Dave Ferdon,
Owner/Operator of *Sprinklers*
Dave is a Master trouble shooter!
___________________________________________
Do any of these problems apply to you?
Poor Coverage
Flow Control is bad
Poor Efficiency
Are these terms familiar to you?
Smart Controllers
Vacuum Breakers (anti syphone/back flow valves)
Blow out, Shut down, Winterization
Rainbird, Toro, Hunter, Water Master
"With years of experience as a Master troubleshooter and technician, I'll get you flowin' again, and your lawn Green again."