How to Winterize your Sprinkler System
First turn off the main sprinkler valve or water supply. Normally located in the basement or crawl space. A ball valve will rotate 90 degrees to the closed position. Rotate a gate valve handle to the right until it is fully closed. Some main valves can be located outside which require a key to close the curb stop valve that is 2 to 6 feet deep in the ground.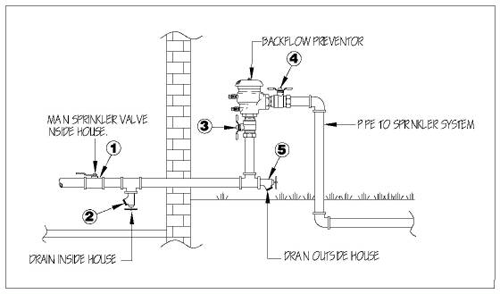 Second connect an air compressor to the sprinkler system. You can connect a compressor to the lower port on back flow unit and use a small screw driver to open the port valve. It is best to close the large butterfly valve (#3) below your connection on the back flow unit. It is the first valve when you follow the pipe from the house to the back flow unit. Back flow manufacturers recommend using a blow out port on the systems main line.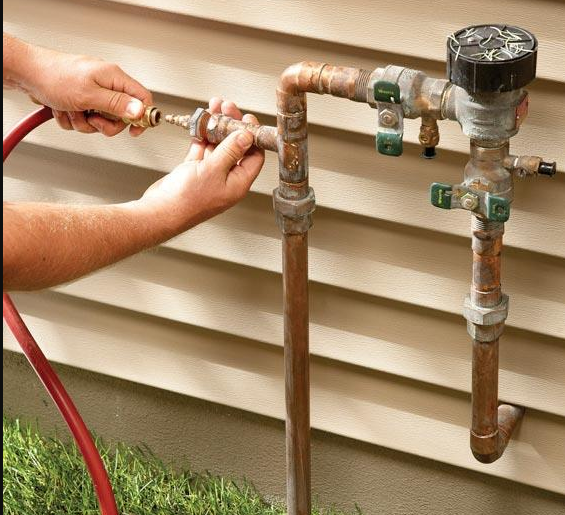 Third go to the timer or controller and start a zone. Blow air through the zone until most of the water is out or when the heads go back down. CAUTION: DO NOT blow air until you have activated a zone. Valve manufactures recommend NOT blowing air for more than two minutes per zone or station. If you need more than two minutes to blow out a zone, blow out the other zones and come back to that zone after the valve has cooled.
After you have blown through each zone, disconnect the air compressor and open the butterfly valve that you closed while connecting the air compressor. The tap must be drained to avoid freezing. Now go back to the main sprinkler valve from the first step in the basement or crawlspace. Locate the drain cap and open it. The water left in the pipe that goes to the back flow unit will drain out. If not call for advice.
Once you have drained the main sprinkler valve, you can now winterize the back flow unit. Put the two butterfly valves in the half on half off position. Also put the two ports in the half on half off position with a small screw driver. This will prevent the back flow unit valves from cracking.
Turn off the timer or controller.
This is a simplified winterization instruction You can call me to ask general questions about winterizing. I can't assume responsibility for your winterization or sprinkler system. Use any of these tips or processes at your own risk. I'm confident you can succeed and save money in the process.
Always wait a few days and inspect the back flow unit for drips. If there is a drip call for advice or take required action.
Failing to properly drain the tap tends to result in freeze damage.