Installing A Lawn Sprinkler System For Dummies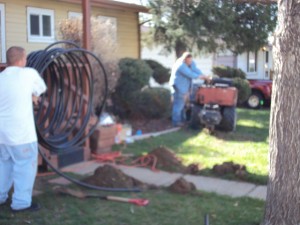 Are you thinking about installing a lawn sprinkler system, and just not sure if you can do it? Well, you're certainly not alone as sprinkler systems are more popular than ever these days. Regardless of whether you're considering a Rainbird sprinkler system, Hunter sprinkler system, or any other lawn sprinkler, being able to do-it-yourself can seem like a daunting task. Here is a quick rundown on installing a lawn sprinkler system.
To get started you're going to need to know the measurements of your yard and the area where you plan on watering. Layout where you would like to place your sprinkler heads. You'll also want to think about where you're going to locate the valve boxes.
Don't think your plan needs to be drawn up like a professional landscaper would do, but you'll want to write in as many details as you can. You'll need to know this in order to buy your lawn sprinkler supplies. You need to know the answers to questions like; how many sprinkler heads do I need? How much pipe will I need? By sketching out a plan you'll have the answers you need.
Next, you will need to have your utility companies come out and locate underground utility lines. I can't stress the importance of this step enough. If you don't do this and you dig up a line, you're responsible for all damages that occur. It doesn't cost a dime to have this done, and it could easily prevent you from running into a gas line or other utility. Be smart and have this done for you.
Your next step after knowing where your utility lines are laid out is to begin digging for your sprinkler water lines. You can use a can of spray paint to mark out the grid system and help you know where to dig. When it comes to digging, you can either dig out the lines by hand with a shovel, or you can use a trenching machine. I don't think I need to tell you how much hard work it will be to dig out the lines by hand. You can easily rent out a trencher at your local rental store on a per day basis. It's relatively inexpensive, and the time and labor it will save you is well worth the extra expense. Unless you're just wanting to get a good workout in, go the trenching route.
Once you've laid out the pipe you can begin connecting it all together. Attach the sprinkler heads and connect the pipe to your various valve boxes and you're basically ready to go.
When looking at how to install a lawn sprinkler system, the biggest issues are time and patience. It will probably take the average do it yourselfer about a week to accomplish, unless you have a crew of family and friends helping you. It will also depend on your landscape. How big is your yard? What type of soil do you have? If it's clay then things will take a little longer, especially if digging by hand.
Installing a lawn sprinkler system is not that difficult, and you'll enjoy the results of your efforts for many years to come.
All Rights Reserved Worldwide. Reprint Rights: You may reprint this article as long as you leave all of the links active and do not edit the article in any way.
By: Terry Edwards